There are many web-browsers trying on three-dimensional approaches. The browser uses virtual 3D environment and allows users to walk or fly through a virtual world to look for their info in a more superb experience. It is a good attempt; however, most of the 3D web-browsers available are a bit miserable. Having said that, the new public beta version of the New York based SpaceTime 3D browser has presented a better performance and includes some interesting and useful ideas which users can try out for a 3D experience!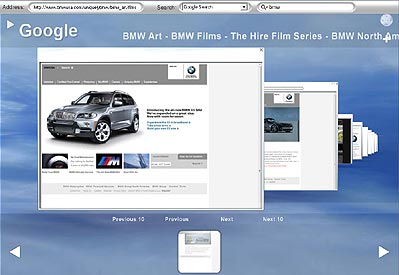 SpaceTime beta .9 is free for downloading. Once installed and launched, you can access to the opening screen which has a calm summer sky with some wispy clouds floating background. You can then type in a URL into the address field to look for the sites that you want. The sites windows will pop up and arrange themselves in a sort of 3D parade. Users can thence flip the sites, re-arrange the pages or manipulate them.
SpaceTime search currently supports Google, Google Images, Yahoo!, Yahoo! Images, Flickr, eBay, YouTube and others. For Google or Yahoo, SpaceTime can only show the image found but not the webpage containing it. On hardware requirements, SpaceTime needs a somewhat powerful system configuration–512MB of RAM, a 3D graphics card with 128MB of onboard memory, and a screen resolution of at least 1280 by 1024.
Read more about SpaceTime.