After five years of releasing R-D1 RangeFinder digital camera, Epson Japan has recently introduced a new model of R-D1, named as R-D1xG. The LCD display has been improved with 2.5-inch as compared to the old model with only 2-inch. However, the camera is still equipped with 6.1-megapixel sensor as similar to the old model. It boasts a higher capacity of SDHC standard memory card that able to store more photos into it.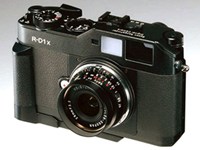 In addition, the R-D1xG can be set to capture RAW or JPEG images simultaneously and has three distinct shooting modes which include one optimized for shooting people, scenery and in low-light mode. Beside that, the camera is a 16x zoom and light sensitivity that able to reach up to ISO 1600.
The R-D1xG is expected to be available in Japan soon and the price is not yet release.