Investing in a radar or laser detector is always better option than paying for speeding tickets. It supposes to give users a peace of mind by alerting them to slow down vehicle's speed when approaching any speed gun installed along the highway. But most of the radar detectors (especially the X-band) in the market are very susceptible to interference which they ended up with more annoyance. Even though there are already some smart software algorithms that able to filter out the false alarm intelligently, Escort seems to move a step further by introducing a new solution for public with the new release of its Passport product series. Named as Passport 9500i, the detector is smart enough to be able to filter out constant false alarm with the assistance of GPS (Global Positioning System) technology.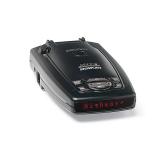 By having the GPS system, the device will be able to track the route and identify those spots with constant false radar signals and then stores it in the memory. Throughout this learning curve, whenever the drivers by pass the same locations, the radar detector will ignore the false alarm spots without alerting drivers to slam on the brakes. All these are running in the background without users' acknowledgement. Besides, it also equipped with dual mode front and rear laser jamming for extra protection.
At the price of $450, it is quite expensive for average consumers. But if it can really help to prevent from getting speeding tickets, it will still save us some bucks in long run.