ESET NOD32 Antivirus is a popular and well-know anti virus protection tool for the Microsoft Windows and Linux platforms. A new version for both ESET NOD32 Anti-Virus has been released, which are now at version 4. ESET NOD32 Anti Virus version 4 is a new generation product that provides anti-virus and anti-spyware protection for home users against data-related threats. It provides comprehensive antivirus and antispyware protection without affecting computer's performance. The new NOD32 antivirus 4 has improved performance, included smarter scanner, and usability improvements compared to older versions.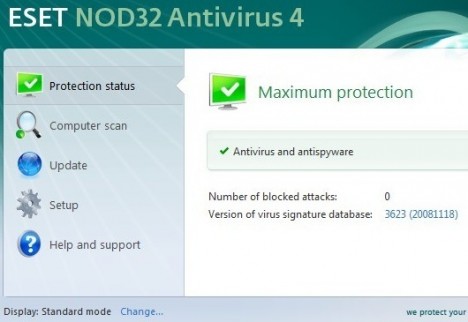 Key features of NOD32 Antivirus 4 are as below:
Comprehensive protection
Easy user interface
Smarter scanner – threats don't always enter your network in ways you expect.
Clean and safe email – ensuring email free from viruses and other threats.
Removable media security – performs additional levels of scanning on removable media.
System Tools
Self Defense – built-in technology to prevent malicious software from corrupting or disabling it.
Many usability improvements
New Diagnostic and Recovery Tools
Finds malware other AV companies missed
Built for Speed
ESET NOD32 Antivirus has been using by over 70 million users' worldwide, who trust ESET NOD32 Anti-Virus to defend themselves from these attacks.
Direct Download Links for NOD32 Antivirus 4 Free Trial:
ESET NOD32 Antivirus 4 for Win XP/2000/Vista (32-bit) :  eav_nt32_enu.msi
ESET NOD32 Antivirus 4 for Win XP/2000/Vista (64-bit) : eav_nt64_enu.msi