Spelling might not be a favorite activity for many users especially in an age of short text messaging (SMS) and simplified emailing. Normally many users are using Microsoft Word's automatic spell check in word processing programs for spelling check. However there is no auto spell-check when we type email, post comments, fill up online forms or even chatting via messenger programs. To facilitate typing and reduce typo errors, eType, might be something that you can consider.

eType is a free spell checker tool that is created to help users to enhance their typing experience by performing out automatic spell check when users type a word. eType spell checker will flag words in a document when users do not spell correctly. It can auto-correct spelling errors, suggest analogous phrases, and translate words while typing anywhere such as social networking websites, web-based email, word processing programs, browsers, and etc. In addition, the quick related text suggestion or phrase completion suggestion prompted based on the information users have typed in a document. These suggestions will appear in a pop down list and users can select the related word/phrases by pressing ENTER or SPACE or clicking on the word. Users can choose to skip the word selection by pressing the ESC key as shown in the photo below: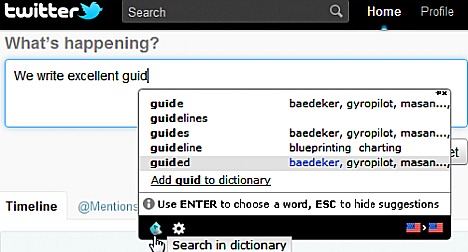 Features of eType spell checker:
Easy to use interface
Supports multi-languages (dictionaries)
Offers easy translation
Great, speedy response time
Helps reduce errors in typing and will be great for people who dislike typing or are slow at it.
eType supports multiple languages and compatible with nearly all programs and websites. People who are intend to try eType spell checker can download eType setup installer to install via the link below.
Download eType: eTypeSetup.exe