Typically, a PC system with two video graphics display ports is common but if you are looking for more than that, then the new tiny product could be a good solution for you. Named as EVGA UV PLUS+, it is an adapter that can be used to convert any USB ports into usable video ports so that you can connect any compatible LCD display panels for much more productive work in daily life.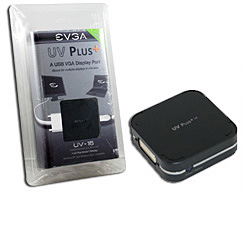 The tiny adapter is compatible to widely available USB ports in today's PC system whereby users can plug the adapter into normal USB 2.0 host ports at one end, and at the other end it features a DVI interface (and also DVI to VGA) so that DVI/VGA based LCD panels can be connected with simple plug and play capability. Good thing is, the UV PLUS+ doesn't need any external power and sufficient current can be drawn from USB interface itself for normal operation. With its virtual driver and high performance built-in DDR memory, it provides a GPU-less solution catering for additional displays without burdening existing platform architecture CPU utilization. Impressively, it can scale up to 1680 X 1050 resolutions with 32-bit color depth for crystal clear display either in cloned or extended modes suitable for various usages.
Priced at $69.99, the tiny but yet powerful UV PLUS+ adapter is already available now and it is compatible to run in Windows XP and Vista in both office and home environments to extend your tiny screen laptop screens as long as you have excessive USB ports to be utilized.