Opening too many tabs and then having to spend a lot of time dealing with them can be an infuriating experience for Firefox users. To enhance the web surfing experience with better tab management, one of the interesting tools users can try is FoxTab. FoxTab is a free tab management add-on for the Firefox browser. With this application added to the browser, a few quick clicks on simple keyboard shortcut keys will change the tabs into a fascinating 3D thumbnail view layout. To view a particular tab, users just need to select the thumbnail and clicking on it. The working concept is a bit similar to Windows Vista's Flip 3D or OS X's Cover Flow.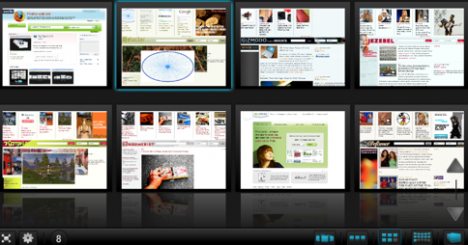 Besides easy viewing, FoxTab also enables grouping, filtering, closing and switching among tabs quickly and easily. The little add-on allows users to do some configuration such as changing the thumbnail size so that users can adjust to fit their personal preferences. FoxTab offers five different layouts from which users can choose to view the thumbnails:
Stack – Thumbnails are 3D-stacked one behind the other.
Wall – Thumbnails are displayed on a concaved virtual 3D wall.
Grid – Thumbnails are aligned on a grid
Row – Thumbnails are arranged horizontally
Carousel – Thumbnails are placed and accessed circularly.
FoxTab is a cross platform application which supports almost all the OS, e.g. Windows XP, Windows Vista, Mac OS X Leopard, and Linux (Ubuntu 8.03 & 8.04 , Mandriva 2008 & 2009). Users can download the app to enhance their browsing experience with the Firefox browser via the link here.
Demo on FoxTab Features