Extra DVD Copy is another DVD disc copying and cloning program given away by Giveawayoftheday.Extra DVDCopyRip is a flexible and easy to use one-click DVD movie copier. Extra DVD Copy can copy most DVD-5/DVD-9 type DVD movies to DVD-9 (Dual Layer) or DVD-5 disks with no quality loss. You get a perfect copy with complete video-audio synchronization.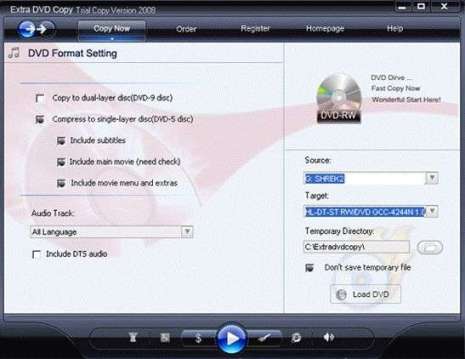 Features in Extra DVD Copy:
Backs-up DVD movies onto your hard disk – great for laptops.
Burns DVD movies to DVD-R(W) and DVD+R(W) Disks.
Copies DVD-5/DVD-9 type DVD movies to DVD-9 (Dual Layer) disks.
Compresses DVD-5/DVD-9 type DVD movies to DVD-5 disks.
Lets you custom specify any part of the original DVD movie and keep or remove audio tracks and sub-titles.
Automatically prepares a blank DVD disk for recording.
Remove DVD protection such as CSS encryption, decryption, Macrovision and region code.
Supports Windows 98/ME/2000/NT/XP/Vista.
Before the end of today (July 24th 2008), download the free Extra DVD Copy setup installer from giveawayoftheday.com. If you have miss the dateline or have to install after the expiry date, download the setup installer from dvdcopyrip.com.
After installing Extra DVD Copy, register the application to full version product with the following registration serial code:
AC2519007311D61F5763DD239DD2098732C7D2A0DE62C1B6