Compressing file is not only able to conserve hard disk space, but also can protect our valuable data from being opened or read by somebody else without authorization. However, if you have lots of password protected archive files that need to be extracted at the same time, it could be frustrating and irritating as you need to spend long time to extract and type the password for each of them repeatedly. Now with this tiny software utility named as Unrar Extract and Recover, it will able to help user to extract archive files by batch without the need to execute files individually or type passwords manually.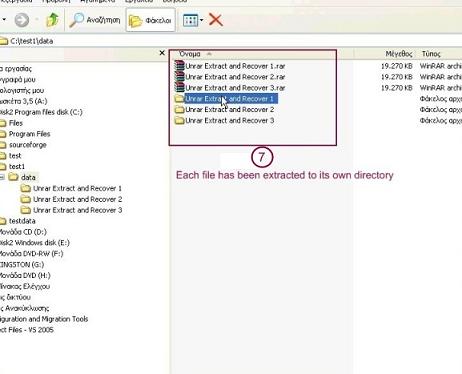 Unrar Extract and Recover is a free utility that is able to help you extract password protected RAR archives in batch. Not only that, if you have used different passwords for each of RAR files in order to have better security, you don't even need to remember which passwords you have used for each of them. Unrar Extract and Recover will attempt to extract RAR archives by using password list as provided in the text file one by one until it manages to extracts all of them successfully with correct password. To use this utility, you don't need to do any installation. After downloading and extracting the package, just go to bin folder and run the executable file. A command prompt will be launched and after a while, you will see Browse for Folder window popping up. Use this window to browse for specific folder which contains RAR archive files and each of RAR archive files will be extracted to a new folder located under the same path.
Unrar Extract and Recover 1.2 is absolutely clean and free and is compatible to run on Windows 2000/XP/Vista/7. To increase your daily productivity, go and download it now to experience yourself on how useful it could be.