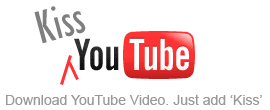 KissYouTube is another video downloader service that allows users to extract, save and download videos and movies hosted on YouTube, a popular video hosting and sharing site. Unlike other bookmarklets or web-based or desktop-based video downloader services, the KissYouTube is simply easy to use, by just adding a 'kiss' into the URL of the YouTube video page, as its tagline – Download YouTube video. Just add 'Kiss'.

To use KissYouTube to download video, movie or MTV from YouTube, open YouTube video page, and then simply add the text of 'kiss' to the YouTube video link, right in front of the 'youtube' to make it 'kissyoutube' in the web browser address bar, and then hit Enter or press the green Go button. If you're viewing YouTube video embedded on websites, blogs or MySpace, just click on the video while playing to open the video page. Once you're in KissYouTube site, users will be able to click on Download Now link to download the video in FLV format.
For example, in YouTube page where the URL link is in this format: http://www.youtube.com/watch?v=XXXXXXXXXX, change the URL to http://www.kissyoutube.com/watch?v=XXXXXXXXXX. And voila, the direct download link of the video is presented, where users can download the video. But remember that the video file should end with .flv extension as the file is in FLV format. Other than changing the URL directly, users can also copy and paste the video link into a text box in KissYouTube home page to download the video clip.
As easy as it's, use KissYouTube while you can, as the it may have to abandon the name or service once YouTube sends letter from lawyer for unauthorized use of the trademarks.
You can then use any FLV player such as VLC player to play the video or convert the FLV to other video format.

How to use KissYouTube video demo