The long awaited Facebook for iPad has finally been released on October 10th, 2011, ahead of arrival of iPhone 4S and iOS 5. Previously, Facebook users using an iPad had to rely on Facebook for iPhone and iPod touch which is not optimized for iPad bigger screen, or access Facebook website directly via Safari.

The new Facebook app for iOS version 4.0 is a universal app for iPhone, iPod touch and iPad, with added support for optimized display on iPad to show high-res photos, games, chat and more. As such, the Facebook app on iPhone and iPod touch will also been upgraded and updated with new features and user interface.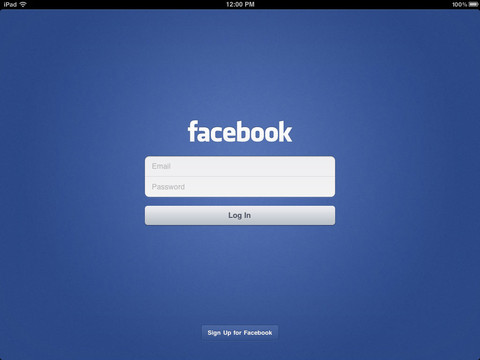 In addition to allow Facebook users to stay connected and share with friends on the go with common features which available on iPhone, iPod and iPad such as start a chat, keep up with friends' photos and status updates, look up a phone number, upload photos to Facebook and more, there are some new and updated features especially for Facebook for iPad:
Enjoy bigger, better photos: Your photos are high-res and easy to flip through, like a real photo album
Navigate anywhere, fast: Just tap, slide or pinch to move from one screen to another
Play games on the go: Access your favorite Facebook apps and games, wherever you are
Focus on what matters: Zoom in on your friends' photos, updates and stories
Never lose your place: Share a photo, update your status or send a message without leaving News Feed
See who's nearby: Check out the Nearby map to see what your friends are up to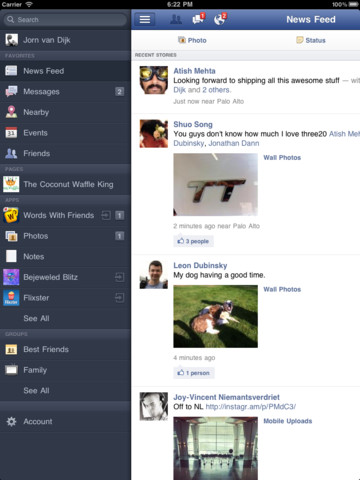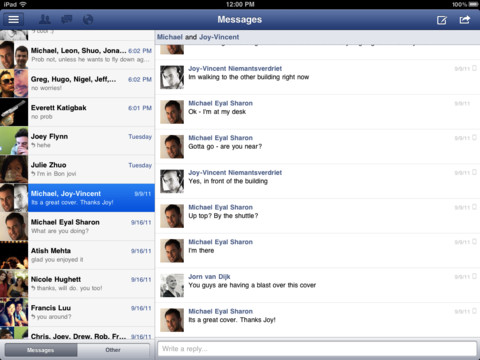 New features in Facebook for iOS app version 4.0:
Improved search and browsing.
Games & Apps: Play games and access your favorite apps on the go
Navigation: Send a message or see your notifications from any screen, and swipe to browse Facebook without losing your place in News Feed
Bookmarks: Your groups, pages and apps are all in your left-hand menu, and the ones you use most are right on top
Search: Search for anything on Facebook—people, apps, pages and more—without having to click around or switch views
Security: We've added a few updates to make the app more secure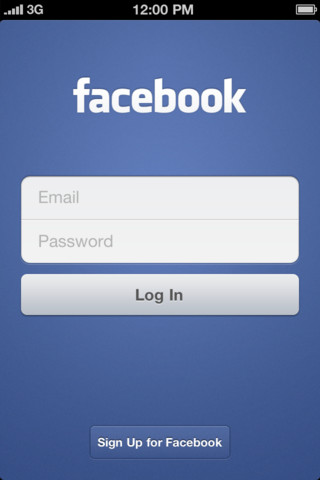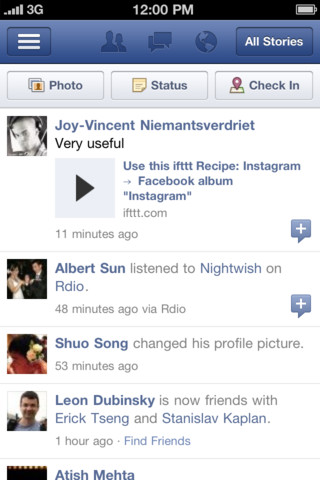 Facebook iOS app is available for free download from iTunes App Store.