Facebook users must be extra careful when receiving messages from friends who send you a link to lead you to a video site as this could be a virus. When users click on to the video link, it will lead users to a page displaying the name and photo of the friend. Users are required to install some applications in order to view the video clip. Once users click on to the "Install" button, it will redirect users to a download site to download a "setup.exe" file, which is the new variant of Koobface dubbed Worm_Koobface.az. Researchers from security firm, Trend Micro, warn users of this popular social-networking site to beware of the new Kooface worm which is currently spreading widely.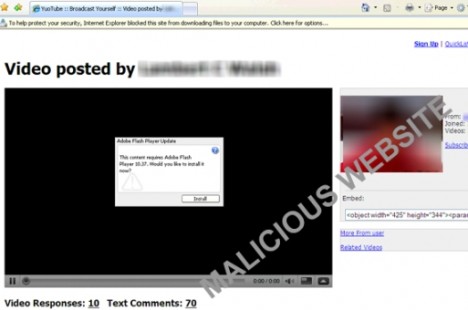 A click to the link will lead users to a fake reputable video site such as YouTube
Koobface is a worm which was initially found on Facebook in December last year. This virus has thence spread to other social networking sites such as MySpace, Bebo, Friendster, hi5, MyYearbook, Tagged.com, Netlog, Fubar, and LiveJournal.com. The earlier versions of this worm didn't have all the complexities and automation built in. "This new variant has a back end doing all the modifications", Jamz Yaneza, a senior threat analyst and researcher at Trend Micro highlighted.
Security expert from Trend Micro, Rik Ferguson, also commented: "The worm connects to the respective site using login credentials stored in the gathered cookies. It then searches for an infected user's friends, who are then sent messages containing a link where a copy of the worm is downloaded. It also sends and receives information from an infected machine by connecting to several servers. This allows hackers to execute commands on the affected machine."
Users are advised to ignore or confirm with the sender when receiving this kind of message rather than clicking on the link directly which will open up a can of worms, literally speaking!