Losing someone you love can be very tough and depressing. It is not easy to cast away the memory of both of you spending time together and the memorable moments that you have had. Empathizing with your feelings, Facebook now offers users the "Facebook" way to remember their beloved who are no longer with them.

Users who want to retain the memory of their friends who have passed away and ensure that they continue to be remembered amongst friends in their social network site can contact Facebook via a template form as shown below: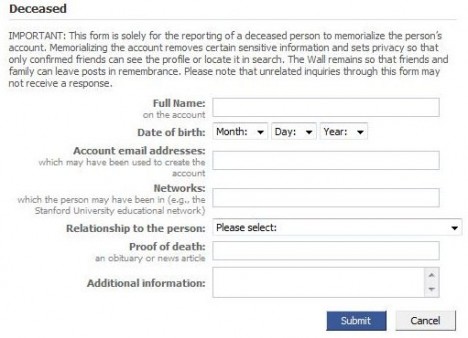 Users need to furnish the deceased's details inclusive of proof of death to Facebook administrators for verification. Once the verification is done, the deceased's profile will be memorialized and various privacy restrictions will be set. Some of the deceased's private and sensitive information such as contact information and status updates will be removed. Users will not find the deceased's name appear on the new friend suggestion section anymore. Facebook will only allow some confirmed friends of the deceased to view the profile and leave posts on the profile wall in remembrance.