Good news for fans of racing games! The leading brand of high-end input devices for game consoles (PlayStation 2/PlayStation 3/Xbox/Xbox 360) and PCs, Fanatec has unveiled its new Porsche 911 GT3 RS Racing Wheel for PC and PlayStation 3 (PS3), which the company claims can truly concentrates on what it takes to help gamers go faster when playing their favorite racing games, aiming to enhance your gaming experience.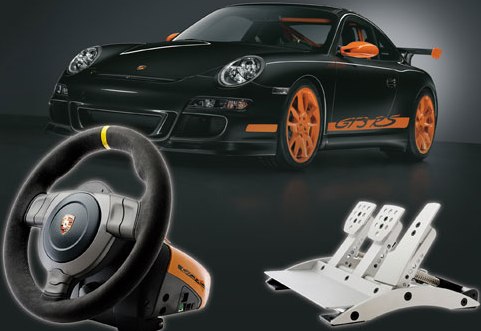 Impressive highlights of Porsche 911 GT3 RS Wheel:
Handstitched leather wheel rim which is using 100% identical ALCANTARA leather as the real Porsche car
State-of-the-art pedal set made of aluminum with pressure sensitive brake sensor, indestructible magnetic precision sensors and ABS vibration
3 Force Feedback motors and smooth belt drive deliver sensational realism
Clubsport shifter paddles made of stainless steel
"This wheel is made for the racing enthusiast. No gimmicks and pure performance, just like the real Porsche 911 GT3 RS," said Thomas Jackermeier, CEO, Endor AG. "You will run out of excuses with this one!"
Features of Porsche 911 GT3 RS Wheel:
Original Porsche 911 GT3 RS steering wheel design with authentic metal Porsche logo on wheel
Licensed by Porsche Lizenz- und Handelsgesellschaft mbH
Extra large wheel rim diameter (300 mm)
Turning angle can be adjusted in the wheel to 900°, 360° or 180° or in 1° steps by software
Play with table – Strong table clamps with quick release, special non-slip rubber pads, and Velcro strips on the pedals
keep everything in place. Integrated screw inserts allows a strong fixation on a gaming cockpit
Play without table – Fully compatible with the RennSport Wheel Stand which is available optional
Powerful Mabuchi RS 550 Motor as used in RC cars delivers extra strong Force Feedback effects
Additional 2 Force Feedback actuators in the wheel simulates motor vibrations
Extra smooth and silent belt drive without mechanical dead zone
The new Porsche 911 GT3 RS Racing Wheel can now be pre-ordered for about $290 and will hit the market on February 15, 2009.