YouTube is wonderful source of videos viewing, but wouldn't be it more 'feature complete' with speed control buttons or slider? Almost all software-based video media player or hardware based VCD, DVD or Blu-ray player have fast forward and rewind button to speed up video playback, slowdown video showing, or to play video backward.

But, YouTube Flash-based player doesn't have such fast forward or slow play capability. In fact, not only is YouTube video hosting site doesn't have such functionality, but most other video hosting sites such as Dailymotion, Google Video, MySpace, Revver, Facebook, and etc. also do not have fast forward or slowdown functions.
MySpeed from Enounce is a YouTube plug-in hack that fill in the blank of YouTube playback functionality gap. With MySpeed YouTube speed control slider, user can do the following:
Change the playback speed of YouTube Videos dynamically (and any other Flash Video).
Watch more videos in less time with speed-up.
Understand and Transcribe complex material with slow-down.
Increase learning with lower frustration.
It's Free!! (for a limited time).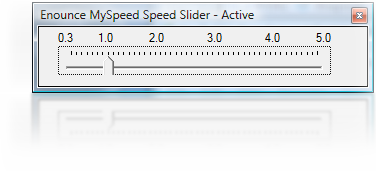 To use MySpeed, download and install MySpeed Speed Slider from enounce.com (direct link to EnounceMySpeed_vB211.exe). Then just move the slider to change the playback speed when watching video.
The (currently) free MySpeed plugin works on most browsers including IE, Firefox, Safari, Opera and Google Chrome, and requires Flash 9 or Flash 10.