Ferrari Virtual Race is a racing simulator that allows gamers and players to race a Ferrari (which is customizable at the Atelier) around the legendary Mugello circuit for ultimate virtual Ferrari driving experience. In the Ferrari Virtual Race game, the race cars that available for driving include 599 GTB Fiorano, 612 Scaglietti and 430 Scuderia, and gamer can save the customised California, F430 or F430 Spider to My Ferrari to drive at a later date.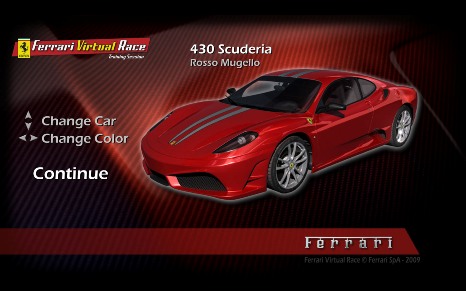 Ferrari Virtual Race is a free full version video game for PC developed by System 3, who also develops the Ferrari Challenge for Nintendo Wii, Nintendo DS, Sony PlayStation PS2 and PS3.
To download the free Ferrari Virtual Race full version game, just go to the following website, and click on "Download" button.
http://www.ferrari.com/English/Community/Ferrari_Virtual_Race/Pages/Download.aspx
Alternatively, just click on the following direct download link to download Ferrari Virtual Race setup installer: FerrariVirtualRace.exe (75.9 MB)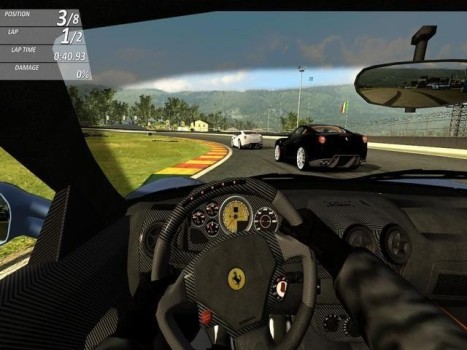 How to Play Ferrari Virtual Race:
Install the Ferrari Virtual Race to your PC.
Configure your ideal car at the Atelier.
Save your bespoke car in My Ferrari (registration at ferrari.com required).
Export your dream car from My Ferrari to the Ferrari Virtual Race.
Ferrari Virtual Race requires a minimum of Windows XP SP2 or Windows Vista SP1 with DirectX 9.0c, running on AMD Athlon 64 3200+ or Intel Pentium 4 3.2GHz with 1024 MB RAM and 500 MB free HD space. The video card should be DirectX 9.0c compatible on AGP 8x or PCI Express with at least 256Mb memory and at least Shadermodel 2.0 and Hardware T&L (e.g. ATI Radeon X800 or better, or nVidia GeForce 6600 GT or better). Gamers with integrated video adapter, especially in notebook or laptop may not be able to play the game. However, an online version is expected soon.