For Mozilla Firefox, there are various bookmark utilities that you can rely on to bookmark and restore favorite websites instantly in organized manner. While most of them are based on sorting category by folder and interest topics, here comes a new add-on that allows users to add bookmark and sort them simply by date, creating a new way especially for those that are looking for alternative.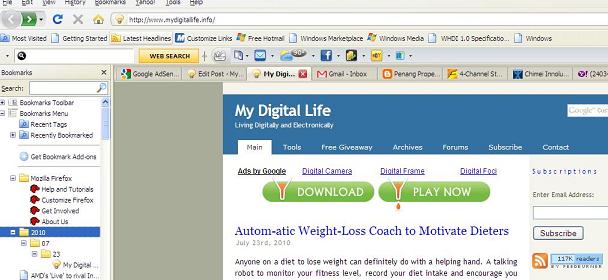 Once install and restart the webpage, you will notice a new icon, with the name of 'Bookmark' will appear at the bottom right of the screen. At any time when there is an interesting website that you intend to bookmark, simply click on 'Bookmark' icon and a message will pop up to confirm your action to save it instantly. In order to retrieve it, just browse to the bookmark folder and look for the year folder, followed by month and date. For instance, if you bookmark any new websites today, you will get them to be stored in a newly created folder with hierarchy folder like 2010 -> 07 -> 24 and so on.
Good thing is, while providing additional way of storing favorite website links, DSBMarks will not disturb any existing hierarchy structure so that users can still stay with its original favorite bookmark category depending on the most effective way of retrieving favorite webpage at any time.