If you don't want anyone to know about some websites that you have visited before, turning on incognito mode in Google Chrome or private browsing mode in IE and Firefox is probably one of the good solutions. However, if you already have a list of identified websites which you for sure don't want to be known by anyone, instead of turning on incognito or private mode each time you visit to the site manually, now Mozilla Firefox has released a new add-on, named as HistoryBlock that is able to clear all information stored locally about your browsing session.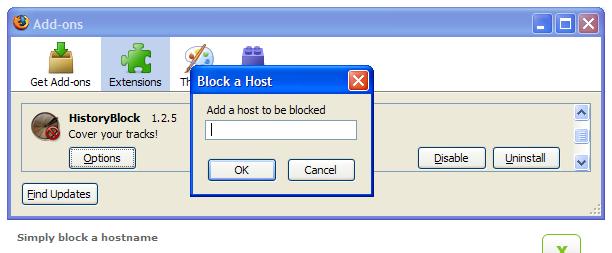 HistoryBlock allows you to specify a list of URL to be blocked from history entries, recent closed tabs entries, download manager entries, cache entries and cookie entries. To enter the block list, just go to Tools -> Add-ons, then go to HistoryBlock and click Options button, a small window will pop up to ask you add a host to be blocked. Alternatively, you can right click on the page and select "Block This!" from the context menu, the URL of the current page will be added automatically to the block list. When comparing against incognito or private browsing mode, HistoryBlock will constantly block your pre-defined domains without the need to remember turning it on/off each and every time. By having this add-on installed, you will never forget to turn on incognito or private browsing whenever you visiting the website.
HistoryBlock is definitely a great Firefox add-ons to be installed in your system. If you feel it is useful to you, just go and download it at here.