If you prefer keyboard typing more than mouse browsing, you may interested on this simple Firefox add-on. Named as Mouseless Browsing v0.5.1, it indexes all your hyperlink links and text boxes in websites that allows users to control the browsing by only tapping on the keyboard buttons.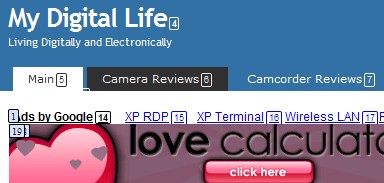 When use it for first time, you may be confused with so many numeric indicator (not to be surprised with more than hundreds sequential number at the same webpage) appear beside the clickable links and text boxes but once you get used to it, you will appreciate the usefulness especially when you can get rid of repeatedly knocking on the 'Tab' button to go through the all the hyperlink without the mouse for some reasons. What you need to do is just identify the intended hyperlink by right index number, then use Ctrl + numeric key to bring the cursor to respective positions. Of course, if you think you want to revert back to mouse browsing, you can do it anytime in conventional way. Once after installed the add-on, users need to restart the Firefox browsers in order to use its new features. Not to worry even when you are in the midst of browsing as it will restore all the previous opened websites after the restart.
To ensure a better quality release for public, the developer welcomes all the feedback from testers and in return, all of them will be informed whenever there is a new release version available for download. Users can download the Add-on at Mouseless Browsing.