If you are Firefox web browser's user and would like to have way to customize and enhance Firefox tab, you may want to try this. Now with the recently released Firefox add-on named as Super Tab Mode, users can easily configure and customize the web browser with enhancement for greater browsing experience.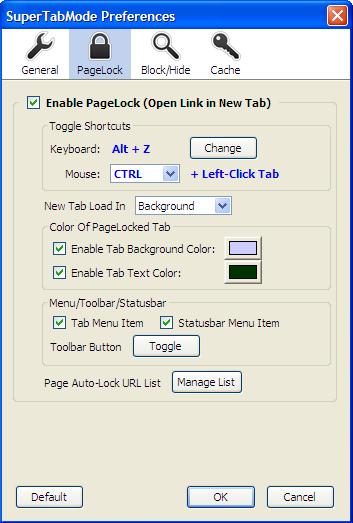 Once install the add-on, just restart for it to be effective. In order to access and change the function, click on Tools followed by 'Add-ons', then browse to SuperTabMode options button and a simple interface will various menu options will pop up. Basically there are four tabs namely 'General', 'PageLock', Block/Hide' and 'Cache' that allow customized settings to be configured. Under 'General' tab, users can find the way to configure the new tab to be opened either at rightmost tab, put Tab Bar on top/bottom, show/Hide Statusbar icon, close tab with either double click, open new window in current/new tab and many more. Besides, users can enable PageLock function with hotkey combination, enable tab text/background color depending on own preference. Whereas under Block/Hide tab, there are features that able to toggle content block to filter off all annoying advertisements or totally hide/restore Firefox web browser completely with assigned hotkey combination. Last but not least, users can choose to enable disk, memory and offline cache with predefined cache size (in kB) for optimized performance.
Compatible with Firefox version 3.5 – 3.7a1pre, Super Tab Mode is free for download here and you may want to utilize it to make your Firefox web browsing experience a more effective and pleasurable one.