Occasionally it would be good to be able to keep the opened websites up-to-date so that you can directly view them without the need to refresh them manually. And that is how this add-on will be able to help if you are Firefox users. Named as ReloadEvery, it is a simple add-on that allows users to control the website reloading interval by using context menu for much pleasurable web browsing experiences.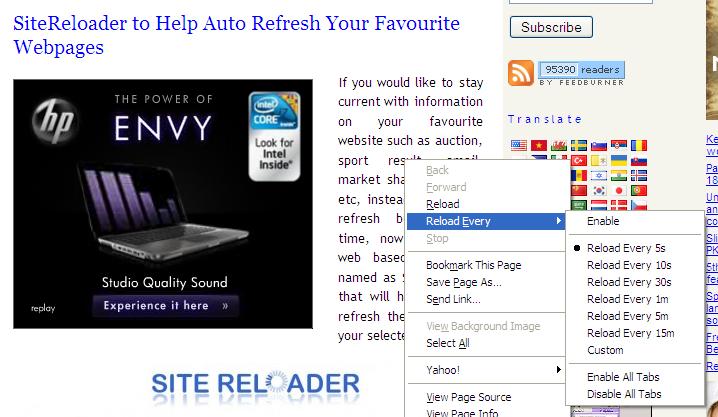 Once download the add-on here, just restart the Firefox web browser like usual and you are ready to go. In order to enable it, right clicking on any Firefox website and you will notice that a new Reload button will appear under the context menu. As it is self explanatory, there is a list of interval selections ranging from minimum of 5s up to 15minutes or if you need something in between, just go to 'Custom' button and users can specify the exact reload timing at own preference. Besides, users can either enable the refresh function for only the particular web browser tab or all the opened tabs simultaneously.
This is especially useful when there is frequent change or updates to the websites that you are browsing and with the fully configurable refresh timing, it will at least refresh at optimum rate (not too frequent but not too seldom) so that you can get a newly updated contents each and every time you switch to any active tabs.