Have you updated your Firefox 2 browser to Firefox 3? If you haven't, prepare yourself to be nagged by Firefox from time to time reminding you to update your Firefox 2 to the latest version Firefox 3.0.1.
Firefox 2 users will be alerted with a nag screen to remind them that a newer version for Firefox is available and ready to be downloaded. Of course users will be given options to select "Later", "Never" or "Get the New Version". If you opt for the "Later" option, you will be reminded again after 24 hours. If you select "Get the New Version", of course you can initiate the downloading process of Firefox 3 immediately. If you choose "Never", don't expect the notice to disappear forever. The nag notice will appear again in the near future.

Get the latest update if you refuse to see the nagging screen again and again. Firefox 3 has added various useful features and bugs found in the early version have been fixed. Backup your personal settings before you download and install the latest Firefox 3.0.1. In that way, you will still have a backup if things go wrong.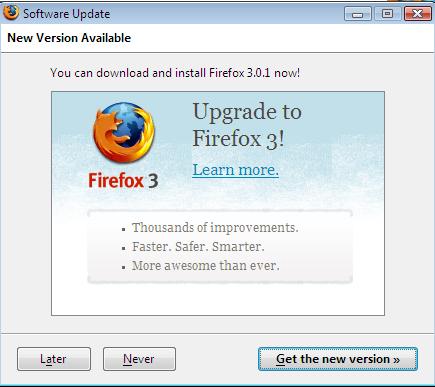 Nag Screen
Update: Firefox 3.0.2