It is common to capture screenshots from web pages, then paste and edit it in Paint as it come together with windows installation package. However, Paint has very limited editor tools only when comparing to other more powerful image editors like Photoshop or Snagit. If you always deal with screenshots captured from web pages and are looking for free tool, FireShot probably is one of the best tools that allows you to capture and edit screenshots from web pages easily.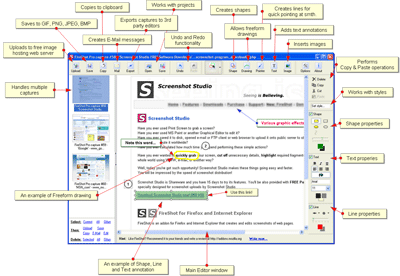 FireShot is a Firefox and IE extension and once you install it, you will see FireShot icon appear on the top left of your Firefox or IE browser. Unlike other extensions, FireShot provides a set of editing and annotation tools which can let you quickly modify captured web pages, insert text and graphical annotations. You can choose to either capture entire or visible web page, then follow by either to edit, upload to free public screenshot hosting, save to local disk as PNG, GIF, JPEG, BMP format, print, copy to clipboard, send as email attachment or open in external editor. Besides, the free editor provides few annotation tools to let you edit the image easily like add annotation, pointer, text, image, drawing. If you only want to capture the small area of the screen shot, you can highlight the portion you want to capture, then choose Crop from the tool box that appeared on the top left of the editor.
FireShot is absolutely FREE! Hopefully you will enjoy using this freeware to simplify your screen capturing process and make your daily work more efficiently.
Downlaod FireShot for Firefox
Download FireShot for Internet Explorer