If you are the businessman who look for table device, here may be another option for you. The global leader in networking and communications technology, Cisco has unveiled its first mobile collaboration business tablet which is named as Cisco Cius. The Cisco business tablet is being designed to deliver virtual desktop integration with anywhere, anytime access to the full range of Cisco collaboration and communication applications.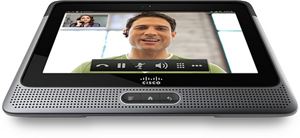 The Cisco Cius is an ultra-portable device which has been designed with weighs at just 1.15lbs (0.52kg) and runs on the Android operating systems for enhance mobility experience and highly secure mobile platform.
Key features of the Cisco Cius includes:
7-inch high-resolution widescreen super VGA touch-target display.
A 720p HD camera at front with capable of capturing 720p video at 30 frames per second.
Single-button TelePresence interoperability that can be utilized either when the tablet is docked or being used remotely via Wi-Fi.
A 5-megapixel camera at rear for capture still images and streaming VGA quality video.
Dual noise-canceling microphone for enhance video conferencing.
An eloquent contacts-driven user experience, designed to enable users to quickly reach their important contacts.
An on-board accelerometer readily orients applications for viewing in portrait or landscape modes as the user rotates the device to their preferred viewing orientation.
Supports 802.11a/b/g/n Wi-Fi, 3G connectivity, USB and Bluetooth.
A detachable and serviceable battery which offers up to eight hours of battery life under normal usage.
Supports wide range of Cisco tools such as Quad, Show and Share, WebEx Connect, WebEx Meeting center, Presence, AnyConnect VPN Security and etc.
The Cisco Cius is expected to be available for general public in the first quarter of 2011 and the price is not yet announced.