The leader in innovator of voice recognition-based search and navigation services for mobile phones, Promptu has introduced ShoutOUT, the first voice-to-SMS application for iPhone users in the US. ShoutOUT is an application that allows users to dictate their text messages in natural language instead of typing on iPhone touch screen keypad. It also allows users to check the transcribed messages for errors and make the corrections if necessary. Once the users finalize the transcribed massages, and then can send the SMS to their intended recipients.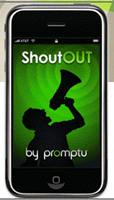 "ShoutOUT makes sending text messages on an iPhone incredibly fast and easy," comments Chris Shipley, executive producer of DEMO, the premier launch venue for new products, technologies, and companies. "Like a lot of people, I love the iPhone but not its onscreen keyboard. The single-finger hunt-and-peck typing is frustrating and slow. Promptu replaces hunt and peck with a simple, accurate spoken word interface. Thank you, Promptu."
Text messaging has become one of the most important ways for communication today. According to the Gartner Group, there will have more than 2.3 trillion text message will be sent by 2010.
The ShoutOUT will soon be submitted for approval to the iPhone App Store/iTunes Connect. A non-English version of the product will soon be distributed by a major wireless carrier in Europe.