When trying to sign in to Microsoft Money (all versions including Money Plus 2008, Money 2007, Money 2006, Money 2005 and so on) with Windows Live ID user name and password provided, the program cannot login properly despite the secret credentials are correct and valid with the error message which reads as below.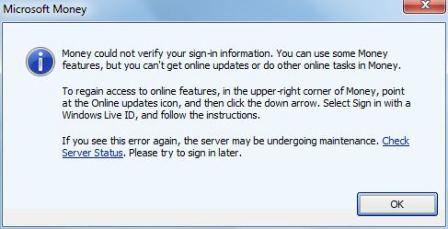 Money could not verify your sign-in information. You can use some Money features, but you can't get online updates or do other online tasks in Money.

To regain access to online features, in the upper right corner of Money, point at the online updates icon, and click the down arrow. Select Sign in with Windows Live ID, and follow the instructions.

If you see this error again, the server may be undergoing maintenance. Check Server Status. Please try to sign in later.
or,
The e-mail address or password is incorrect. Please try again. If you are sure that you typed your credentials correctly, the server may be undergoing maintenance. Please try again later. If you are opening an existing file, sign in to your Money file to work offline.
Microsoft has discontinued Microsoft Money product offering since June 30, 2009, and is no longer been supported after January 2011. Now it appears that servers that authenticate Microsoft Money login information have been decommissioned. And thus, the cannot connect to Windows Live ID in Microosft Money with Windows Live ID issue is not related to cannot sign in problem faced by Money users or Money not connected to Internet error which happened previously.
Though Microsoft Money users still can sign into a Money database file by selecting to work offline, but most online update services, whether manual or automatic background update, from banks or financial instituitions does not work, even though the downloads does not go through Microsoft.
To work around this issue, sign in to Money in the offline mode, and then remove your Windows Live ID credentials. To do this, follow these steps:
Start Money.
On the Sign in to open your Money file page, type your Windows Live ID credentials, select the Work Offline check box, and then click Next.

Note: If you recently changed your Windows Live ID password before you used Money, make sure that you use the last password that worked with Money.

On the File menu, click Password Manager (for Money 2002, click Login Lockbox), and then click Remove.

Note: If you are prompted to disable MSN Money Web access, complete those steps, and then repeat step 3.

Click Disable this Passport for use in Money or I want to remove Windows Live ID from my Money file, and then click Next.

Click Finish, and then wait for the credentials change process to be completed.
Click OK.
Exit Money.
After unlink and unassociate Windows Live ID from he Money data file, user can add a standard Money password to the data file, also through Password Manager by selecting "I want to use a Money password". After removing Windows Live ID, access to most financial institutions should be restored and synced properly. Synchronization with MSN Money such as exchange rate, stock quotes, news and etc should continue to work properly too.
According to KB2390720, Microsoft Money had retired online banking services for all accounts that use Direct Services, which is provided though third party provider from October 1, 2010. Microsoft Money will continue supporting services (such as bill payment) with direct connections to a financial institution until online services are discontinued on January 31, 2011. After the expiry date, only Money's Web Services ability continues to be available, which supports banks and financial institutions that provides statement download ability.