Posted:
September 3, 2010
/
Under:
Operating Systems
/
By:
My Digital Life Editorial Team
When opening up items inside Control Panel or Windows Update in Windows operating system such as Windows Vista and Windows 7, neither Control Panel applet nor the Windows Update does load. Instead, the Control Panel and Windows Update window will show just a blank white page with "The page failed to load" error message.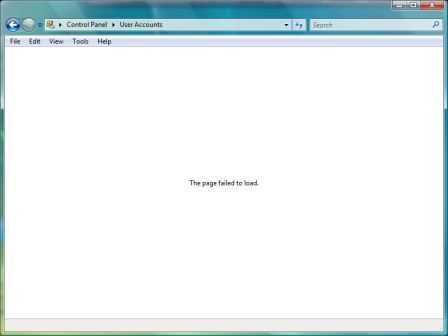 The main issue the cause the problem is conflict with third-party application programs. Some of the known incompatible programs include:
StarDock MyColors
Window Blinds
XeroBank Browser
Other programs that mess with or alter Windows desktop theme or other core system functional area may cause the problem too.
Thus, in order to solve and fix the The Page Failed to Load error, just uninstall and remove the conflicting programs. Sometimes, upgrading to latest version which fixes the issue may help too.
If the problem still haven't been resolved, i.e. page still does not load, try to repair the file system by following these steps:
Open an administrative command prompt.
Enter and execute the following command:

sfc /scannow

Restart the computer once process completed.
The process may take up to 10 to 15 minutes to complete. However, the Windows Resource Checker (sfc) should be able to fix most system related errors due to corruption, wrong alteration or misconfiguration.