It is common to keep important data in portable media device and bring it together with you so that they can be accessed at anytime and anywhere. However, if you lost the portable media device, all of your important data will be lost as well. To prevent the data lost, it is important to have a backup copy of it in your desktop's hard disk. Now there is a quick and simple file backup utility, named as FlashBack that is designed especially for portable media devices.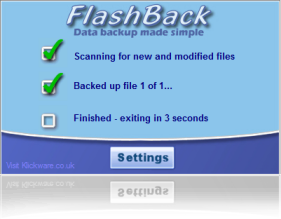 FlashBack is a standalone utility that is able to backup files automatically when a portable media device is connected to the computer. The portable media device could be USB drive, MP3 player, memory card, digital camera and etc. To backup files from portable media device, you need to launch FlashBack and when it is launched for the first time, you will be asked to choose the destination path of the backup and type of files to be backed up. This is one-time deal setting and it will not prompt you again for subsequent launching of FlashBack. Once you have completed the setting, it will auto backup files from portable device to local drive once it detect there is a portable media device connects to the computer.
FlashBack v1.1 is absolutely free to download and is compatible to run on Windows XP/Vista/7 and more importantly, it doesn't require any installation and just run the executable file directly to start the backup process.