FON, one of the biggest WiFi community in the world has collaborated with Joikusoft, a Finland based software company in developing a new software aiming to promote WiFi access everywhere by using a 3G mobile phone. Named as FonSpot, it transforms a 3G data network mobile phone into a WiFi access point, allowing other wireless devices such as laptops, smartphones, MID (Mobile Internet Device) to connect to it for web browsing securely and seamlessly.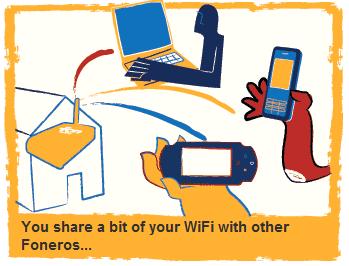 FON emphasizes on data bandwidth sharing among its community members (or better known as Foneros) and with this newly developed FonSpot software, it will make the whole sharing solution even much more easier as any of the mobile phones surrounding you can hook up to your 3G enabled mobile phone for data access. Typically, Foneros may need the La Fonera, a FON router for similar function but now they can just rely on 3G mobile phone to achieve this. Besides, they will have a full control of who can access to its unit and how much bandwidth allocation for each of its members.
At this moment, FonSpot targets to support Symbian OS based mobile phones for the start. The software will be available to its FON's members in the entire world by end of this year. However, no pricing and further information on which model of phones will be supported yet. User can visit FON for further details and sign up.