Trend Mirco Online Guardian for Families is a new product from Trend Mirco, which has been designed to help the parent to monitor and protect they kids against Internet dangers such as cyberbullying and online predators. This parental control software able to provide the parent with an easy-to-read report that shows web browsing history, wall postings, messages, photos, chats and more. Besides monitoring, it also allows the parent to set age appropriate rules for their kids' Internet activities that include filtering out adult content and limiting their time online.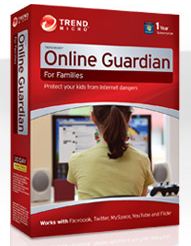 Key features of the Trend Mirco Online Guardian for Families includes:
Social networking monitoring – monitor kids' activities on Internet sites such as Facebook, Twitter and MySpace.
Instant Messaging monitoring – view kids' web chats and conversations on Yahoo! and MSN.
Video and photo monitoring – see what kids are viewing and posting on websites like YouTube and Flickr.
Keyword search monitoring – easily monitor what kids are searching for on the Internet.
Website/Adult content filtering – automatically block out any websites and content that parent consider inappropriate.
Online time limits – control how long kids spend on the Internet and set a daily usage schedule.
Private data control – prevent kids from sharing credit card numbers, passwords, email addresses and other sensitive information over the Internet.
Password override – allows the parent to temporarily turn off the monitoring and filter software with a password when access to "mature" content on the family or child's PC.
Easy-to-use management console – monitor kids' Internet activities anytime via a web browser.
Customized protection – create individual age appropriate profile settings for up to 5 children.
In order to celebrate new product launch, Trend Micro is now giving away 1000 copies of Trend Micro Online Guardian (normally cost $49.95) to US residents until 17 April. To participate in this giveaway promotion, just follow the below steps:
Enter first name, last name, email address and click on "submit" button.
Note: The winners will be contacted via email.