Webmasters who want to target Asia region now has another reason to register for .asia domain name. .ASIA registry, DotAsia, is giving away free 2 GB USB flash drive, which commonly known as memory strick to every .asia domains registered during the promotional period.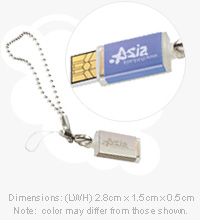 The free USB flash drive of 2 GB in size is a .ASIA branded USB thumbdrive or pendrive that offered by DotAsia. Thus, the promotion is opened to quite a handful of .asia domain registrars, which registrants can shop for cheaper price for .asia domain name. One of the participating registrar is Surfnova, an affiliate of My Digital Life.
All .asia domains registered with a term of 2 years or more will be eligibile for the exclusive free .ASIA branded 2 GB USB memory drive. A redemption code will be emailed to registrants a week after the .asia domain has been fully registered. Once customer receives the email, login to www.FreeB.Asia with the redemption code and the corresponding .asia domain. Customer will then able to confirm the shipping address where the USB memory still will be delivered via postal mail.
The FreeB USB memory stick promotional offer is valid from July 6th to October 6th 2009 or while supplies last. Only new domain register is applicable for the freebie, renewals and transfer-ins are not entitled to the free USB flash drive. The shipping and handling is expected to take 6-8 weeks.