Even though nowadays a lot of blog publishing tools offer massive data storage, many web designers, bloggers and net users still face insfficient storage especially active and heavy users. If the storage offered to you is not sufficient for your daily use, perhaps one of the ways is to upload and store your images at image hosting sites and embed the code into your web site or blog. This solution might not be an ideal way but it is quite practical and effective. ImageBam is a user friendly image hosting site that allows you to upload images for free if you are looking for one.

ImageBam allows users to upload images in JPG, GIF and PNG formats up to the size of 3MP of an image. No registration is required. Users just go to the hosting site, upload their photo, and they will be given the HTML Code, BB Code and the Link URL of the image for them to insert or paste in their blog, forum, website, etc. A removal code is also given if users want to delete the image permanently. Users who like the service can opt to register as a user. Registered users can create their own account cum gallery to manage and deal with their uploaded photos. There is no limit to how many images the users can store. Besides, users can also do bulk upload by sending a zip file, butthis is limited to 100 files and 100MB size total.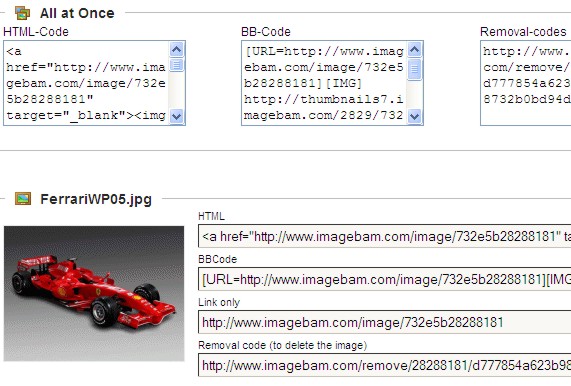 Image hosting sites such as ImageBam can be very useful for those who need additional storage to store and publish their photos. Users can upload the photo to ImageBam and share the link in the forums, social networking sites, e-commerce sites, etc.