Many users particularly shutter bugs, bloggers and web designers like to upload and store their digital images in Flickr and embed the images in their blogs, websites, social media, etc. Even though this popular, professional and free image hosting and photo management web service is backed by Internet giant, Yahoo, which bought over Flickr in 2005, nothing is definite and one shouldn't compromise when it comes to security. Hence, to prevent your most valuable masterpieces from going missing due to unpredictable events such as hacking, technical faults, etc, it is advisable to download these photos from Flickr and make a secure backup. There are various useful and free Flickr photo album downloads and backup applications that you can perhaps try if you do not want your effort and hard work to go down the drain.

FlickrEdit
FlickrEdit is a third party free application that allows Flickr users to download, edit, backup and even upload their photos to and from Flickr. This Flickr backup application is available in two different versions that run in different environments. Users can access the java based editing environment via the link here. Alternately, users can also download and install the executable version on Windows platform or Java jar file on other platforms from here.
Through FlickrEdit, users can browse photos, search for photos based on date and tag, rotate photos, delete photos, check their contacts' latest uploaded photos, view photo slideshows and most importantly backup photos including the title, descriptions, tags, copyright, etc.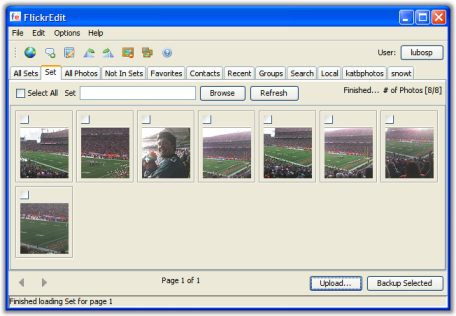 FlickrEdit Screenshot
Flickr Backup
Flickr Backup is another Flickr backup application developed by the same developer for FlickrEdit. Unlike FlickrEdit which features other editing functions besides doing the backup, Flickr Backup is solely for downloading and backing up photos from Flickr. Flickr Backup is a free tool written in java and available for both Windows and Mac users. Users can download the free Flickr backup tool via the link here.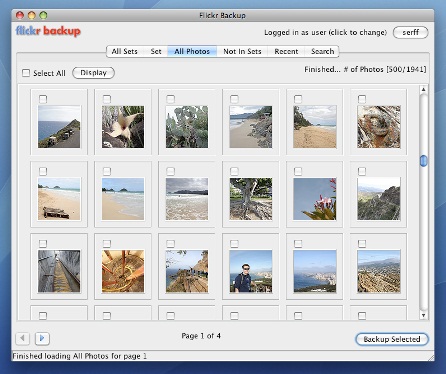 Flickr Backup Screenshot
Downloadr
Downloadr is a photo downloader tool for Windows. Users can use this application to download images from Flickr to their computer for backup. This free application provides a simple interface that allows users to browse their photo collections stored in Flickr, select photos and download all these photos to their computer.
Users can download the free application via the link here. Once it is installed, users can login to their Flickr account and launch Downloadr. This application also allows users to do photo searches via text, user, tag, place, set, date, interest value, group and favorites.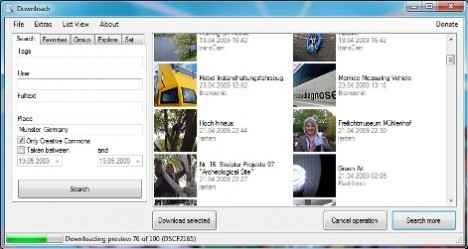 Downloadr Screenshot
Flump
Supporting Windows, Mac and Linux, Flump is a simple Adobe AIR application that allows Flickr users to download photos from their Flickr account to their hard drive. This free backup tool features a simple and straightforward interface which allows users to make selections from their photo albums and decide where to save the photos. This application doesn't feature other additional functions but solely photo downloading and backup to other destinations.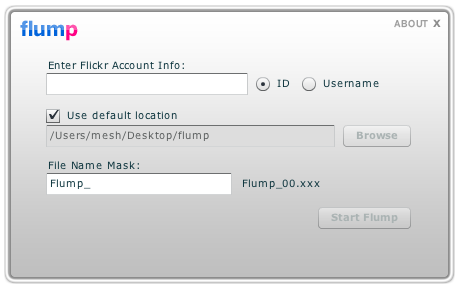 Download Flump for:
Windows and Mac
Linux
FlickrDown
Similar to Flump, FlickrDown is another standalone application that performs a single task: download photos from the Flickr account for backup. This free application supports Windows only and requires .NET 2.0. Download via the link here, and once it is installed, users just need to give their Flickr username from which they want to download the images and select the destination where they want to store the images.
Flickr AutoDownloadr
Flickr AutoDownloadr is a small, freeware Windows application written using the Flickr API and AutoIt. This application allows users to download and store photos from their Flickr account, their friends' and even random strangers'. Users can make photo searches following groups, sets, favourites, etc and filter the photos by tag, title, description or date. They can also select the photo size they want to download.

Flickr AutoDownloadr Screenshot
Download Flickr AutoDownloadr via the link here.
FlickrFaves
FlickrFaves is a cross-platform utility written in Java that allows users to download their Flickr favorites to their hard drives. The program requires Java Runtime Environment (Version 5.0 or later) to run. Below is the features summary from the developer:
Downloads your Flickr favorites in the highest resolution available
Only downloads images that are sufficiently large for your screen
Optionally limits the number of images downloaded — downloads only your newest faves
Chooses whether to re-download or overwrite existing images
Automatically detects incomplete downloads
Optionally deletes stale faves
Optionally excludes certain images
Automatically remembers your choices
Download FlickrFaves via the link here.