AutoCAD WS is a free online service from Autodesk, which allow the users to view, edit and share DWG files through web browser. In order to allow the users to access their drawings files from anywhere, the free online service has been featured with upload function for users to store their drawings and project files in an easy-to-access online workspace.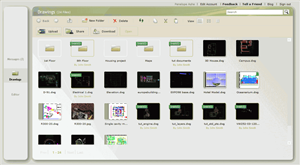 Key features of the AutoCAD WS includes:
Upload Files – access drawings from anywhere around the world.
Edit Drawings – edit DWG files in web browser using more than 100 familiar AutoCAD commands and shortcuts.
Share – set permissions for enable others to view, edit or download drawings.
Go Mobile – sync online files, view and edit with iPad or iPhone for a mobile CAD experience.
Google Maps – integrate Google Maps into drawing to see designs in a real-world setting.
Real-Time Collaboration – work with other users to edit the same drawing at the same time.
AutoCAD WS is now available as a free installable app at Chrome Web Store. Therefore, those Chrome users who interested can directly install the AutoCAD WS to their Chrome Browser.