AVG has expanded its business line into cloud storage service by launching LiveKive. The AVG LiveKive is a cloud storage service which has been designed to automatically synchronize all the files across PCs, Macs and laptops enabling the user to share safely with anyone and anywhere. In order to ensure the files are always kept private and safe, it uses military-grade encryption method to encrypt the files.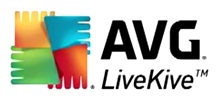 Key features of the AVG LiveKive includes:
Automatic backup – schedule automatic backups of personal and professional data for complete peace of mind. The users also can restore any important files or folders that were accidentally deleted.
Share with the world – share files, folders, photos and music with friends, family and colleagues via share rooms.
Stay secure – rest easy knowing your valuables are kept safe in secure data centers which are protected with industry-leading encryption.
Sync files and folders -merge data from all your folders and web-enabled devices into one safe location for instant and hassle-free access.
Access remotely -access your files anytime from anywhere with AVG LiveKive apps for your iPhone, iPad, and Android.
Save time – save time with incremental backups that upload only those documents which have been changed.
Available in there storage options such as free account with 5GB storage, $50 with 25GB storage and $80 with unlimited storage. Those Windows or Macs users who interested to try, can get a free account from .