Apple's iPad has been getting good traction with more than million units being sold within the first month after its official release. While most of the users are attracted with its great graphics performance (thanks to its A4 processor) with bunch of free games and apps support, some are planning to get one just to enjoy reading e-book on its large screen size. Good news now, Barnes & Noble, the world's largest online bookstore has just released a new free app to iTune store targeted mainly for iPad users.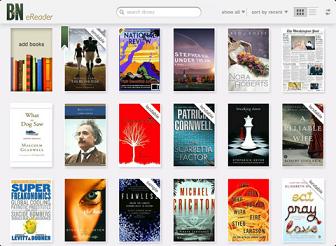 In order to utilize its large screen for much pleasurable reading experience, some features have been added as an extra bonus when comparing to other existing e-book reader like iBooks for iPad. For instances, users can easily access and browse to the desired e-book with list view in landscape mode before deciding to go further to read it. Besides, users can tap on any words or sentences to highlight, add notes or even put them into lookup search using Google or Wikipedia (with WiFi or 3G connected), making it much useful than plain e-book reader. However, don't expect the multi-touch features to be working and there is no way to zoom in/out on the fly with two fingers moving on the screen. Also, there is no way to change the brightness of the screen while in the middle of reading without leaving the app. But anyway, this is just a free app and users can still rely on its internal menu (top right corner) to change the font size, types with margin depending on own preference.
The app is already available for free download at iTune store and good news for new account sign-ups, they will able to get few public domain book besides some bestsellers' samplers for free without the need to really spend extra buck for online purchase.