I am not sure how many female readers does My Digital Life has, but if you're one, here's a chance to get a free bikini bra, a triangle top that can work well as either a bra or bikini top. Even if you're not female, probably the bikini bra can be a surprise gift to girlfriend, lover, or wife.



American Apparel, in a joint promotion for Ocean Drive magazine reader, is giving away a bikini bra for those who sign up for the email updates. To grab your free bikini bra, visit the following web page:
http://store.americanapparel.net/free-bikini.html
Enter the details required and hit "Submit" button, and an email with the fill to order free bikini bra will be sent to the email address submitted. Alternatively, just head to the following URL:
http://store.americanapparel.net/select-free-bikini.html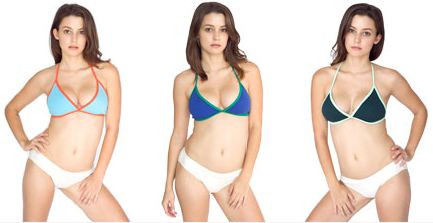 Fill in the delivery address information, and you can select the size of the bra, though only 3 sizes available:
1 for S (size 0 – 2; chest 30-32 inches; cup A)
2 for M (size 4 – 6; chest 32-34 inches; cup B)
3 for L (size 8 – 10; chest 36-38 inches; cup C)
Delivery is free so there is no shipping charge.