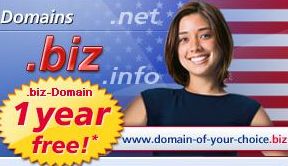 Business owners or commercial corporation network administrators who wants to grab a .BIZ domain name for their company now has the perfectly good reason to register the TLD domain, as the price for .BIZ domain has been slashed to $0.00 (free) by 1&1 Internet. However, the unbelievable cheapest (nothing beat free) offer only lasts for several hours.

However, note that domains with the top level domain (TLD) .BIZ are reserved for genuine business or commercial use only. Registering a .BIZ domain name solely for the purpose of compensation (by selling, trading or leasing) or using the domain name exclusively for personal, non-commercial purposes or the expression of non-commercial ideas is strictly forbidden. Buyer or purchaser has to agree to the terms above.
What makes the free .BIZ domain name registration offer from 1and1.com more attractive is that there is no ICANN fee charged, as it's already included as part of the price, which is zero dollar. Beside, the private domain registration which protects the privacy of the registrants is also provided for free.
The free .BIZ domain is good for 1 year. After that, standard pricing applies. However, registrants can always transfer the domain out to other domain registrars such as Surfnova should the pricing at 1&1 Internet no longer attractive.