ConceptDraw MindMap is a business and personal productivity software for mind-mapping, brainstorming and creative thinking. The ConceptDraw MindMap allows users to use diagram to represent words, ideas, tasks, or other items linked to and arranged radially around a central key word or idea in order to generate, manage, visualize, structure, and classify ideas, and as an aid in study, organization, problem solving, project planning, decision making, and writing.

ConceptDraw MindMap has the following features:
Visual mind mapping technique which uses radial diagrams to capture and organize information.
An outline method – a traditional way of hierarchical display of related items.
Brainstorming methods – the technique that enables individuals and teams to generate multiple ideas.
Can be used for process construction, mind mapping and brainstorming.
Rich import/export capabilities of the application are useful for sharing maps with colleagues.
Rich clipart galleries as well as extended drawing capabilities help in making maps more informative and easier to understand.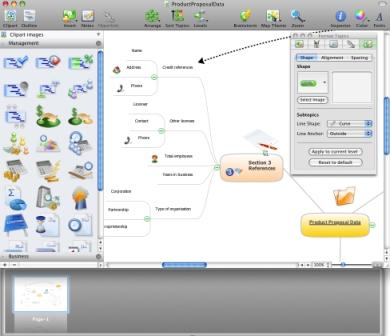 ConceptDraw MindMap normally costs $199 to buy for single user license. But for user interested into using mind mapping concept to help increasing productivity, he or she can download and install ConceptDraw MindMap 5 Professional and Personal edition for free, thanks to a promotional offer by ConceptDraw with various tech magazine publishers to giveaway free legit full unlimited version serial number key for the MindMap v5 program.
To receive the free genuine copy of serial number for ConceptDraw MindMap, go to the following URL:
THE REGISTRATION LINKS HAVE BEEN REMOVED DUE TO DEVELOPER REQUEST
ConceptDraw MindMap Professional: http://www.conceptdraw.com/registration/mm5special.php or http://www.conceptdraw.com/registration/mm5special.php?pcw_uk
ConceptDraw MindMap Personal: http://www.conceptdraw.com/registration/mm5special.php?mw_uk
http://www.conceptdraw.com/registration/mm5special.php?mf_uk
Fill in all fields that are required (marked with asterisk including the magazine selection, which can be any), and click "Register" button. A serial number will display on screen instantly, and will also be sent to the e-mail address entered (it appears that all serial number generated is the same, which is MP5R-1BF4-D5F7-91D8-3098-1 for MindMap Professional Edition and MM5R-0D6B-EB89-87ED-8A32-1 for MindMap Personal Edition).
The serial key number works on both Windows and Mac OS X version of ConceptDraw MindMap v5. Unfortunately, conceptdraw.com website now only directly hosts the setup installer for latest version of MindMap, which is version 6 and available only as part of ConceptDraw Office 1.1. Registrants should already get hold on the full version of the program on the promotional CD or DVD included with magazines. But for users without the CD or DVD, the setup installer for ConceptDraw MindMap 5 trial version can be downloaded from official ConceptDraw download site with the following links:
ConceptDraw MindMap Professional version 5.5.0.0 for Windows: CDMindMapProEn.zip
ConceptDraw MindMap Professional for Mac OS X 5.4: CDMindMapProEn.dmg
ConceptDraw MindMap Personal for Windows: CDMindMapEn.zip
ConceptDraw MindMap Personal for Mac OS X: CDMindMapProATrialEn.dmg
After installed, the program will prompt user to enter license key to register and unlock the program from 30-day evaluation state to full version no limitation product. User can also register the software from Help menu.