Generally the video clips downloaded from most video sharing sites are in flash video format with the FLV extension. Flash video is viewable via Adobe Flash Player, web browser or via some media player programs. Users who want to watch or edit the downloaded clips in flash video format via their Apple's QuickTime player either in the Windows OS or Mac OS X need to convert the files from flv format to mov format, a QuickTime multimedia file format prior to doing so.

FLV to MOV Converter (or also called Cool FLV to MOV Converter) is a free and user friendly video file format converter which allows users to convert flv video format and other video formats to Quick Time format with mov extension. This tiny conversion tool features a simple interface without many fancy buttons. To convert flv video files to mov format, users just need to click the "+" button to add the file for conversion and click "." button to set the output destination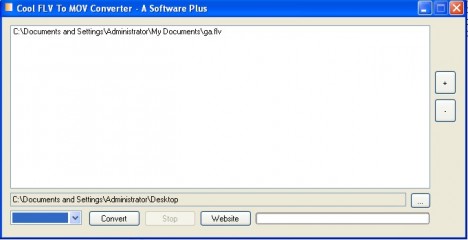 Users will thence need to click on to the "Convert" button to start the conversion process. The Cool FLV to MOV Converter features advanced options which allow you to set bitrate, framerate, frame size, aspect ratio, crop or pad black strips at the outer part of the video. The FLV to MOV Converter support Windows 2003, Windows Vista, Windows Server 2008, Windows 2000, Windows XP and also Windows 7. This application requires Microsoft .NET Framework. Users can download the latest Cool FLV to MOV Converter for Windows via the link here.
More tools to convert Flash Video (flv) is available.