Posted:
September 18, 2009
/
Under:
Operating Systems
/
By:
My Digital Life Editorial Team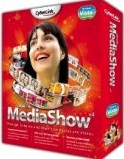 CyberLink MediaShow is a advanced software application to organize, edit, convert, preserve, share and upload photos and videos which competes with Arcsoft MediaImpression, Adobe Bridge, Roxio Creator and Google Picasa. CyberLink MediaShow allows users to import video and photo files from digital cameras, phones, and camcorders, supports one-click fixes, face tagging, express video conversion and able to create photo slideshow.

CyberLink has just released CyberLink MediaShow 5. As part of promotion with Computeractive magazine, CyberLink is giving away the commercial version of Cyberlink Mediashow 4 DE, a full photo slideshow program, from 2009/07/01 to 2009/10/01.
CyberLink MediaShow version 4, although is an old version, but introduced a number of significant updates from its predecessor. Its features included video editing tools with auto-fixes that enhanced video lighting and steadied shaky video content. Photo management with tagging features makes searching for files easier than in previous versions and in addition there is an option to upload photos to Flickr or videos to YouTube, all directly from the program's interface. MediaShow Espresso is also part of the MediaShow family which focuses on video conversions.
CyberLink MediaShow is valued at $49.95. Now everybody can get free license for CyberLink MediaShow 4 DE, which should be similar if not the same product with full version of CyberLink MediaShow 4, together with free download of CyberLink MediaShow 4 DE setup installer and CD key or serial number to fully install CyberLink MediaShow 4 DE.
How to Register and Receive CyberLink MediaShow 4 DE Registration Code (CD Key) for Free
Visit the following web page:

http://www.cyberlink.com/prog/event/bundle/index.do?nEventId=2063

Enter name and email address, and click Submit.
An email with the subject line of "Cyberlink MediaShow 4 DE CD Key for UK – Incisive Media" or "Thank you for trying Cyberlink MediaShow 4 DE software" which contains CD key will be delivered immediately.
The registration information only works with PCW_MediaShow 4.1 DE software. So download the setup installer of CyberLink MediaShow 4 DE (http://www.vnudownloads.co.uk/mediashow4.zip) from http://www.computeractive.co.uk/show/index.
Run setup.exe to install and use the registration CD key to activate full version product.
The download offer expires 20/09/2009. Thanks to Kim for the tip.