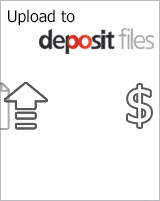 DepositFiles.com or simply Deposit Files is a popular international service for safe file's transfer, storage, and distribution. One unique feature of DepositFiles including support of big file uploading, storing and sharing of up to 2 GB in size for registered users (300 MB maximum for unregistered users). Deposit Files also pioneers a bonus program where user can earn money when someone who eligible downloads files uploaded by him or her.

For people who wants Gold account, there are many way to get DepositFiles Gold account for free. For example, all downloads also earn U-points which can be converted to Gold-key to activate an account as DepositFiles Gold account. DepositFiles also has an interesting D-points where member who downloads can earn D-points to exchange for gold membership.
With a Deposit Files Gold account, user can download files quicker and with no limits. No more "Your IP is already downloading a file from our system" error message. Gold member can have multiple connections, can use DepositFiles File Manager for downloading, experience no waiting time between downloading the file parts and no ads at all.
My Digital Life is giving away one (1) Gold-Key for DepositFiles which costs $11.95 to purchase. The gold key can be used to activate a Deposit Files account (aff) as gold membership.
Contest Closed. Winner is Tuna.
In order to win the DepositFiles Gold Key, what you have to do is to be the last one to post a comment at the comment section of this article before or on 11:59 pm, June 27th 2009 (GMT+8). Poster who posts last wins. All entries will be based on the timestamps that appears together on the comments made.
The winner should register a free DepositFiles account (aff), and then use the Gold-key to activate the account as premium gold account.