My Digital Life Alexa co-brand Toolbar is based on Alexa Toolbar, which is a Browser Helper Object for Internet Explorer or add-on for Mozilla Firefox web browser. The main feature of My Digital Life Associate Alexa Toolbar is a logo bearing My Digital Life (if you have better idea for the logo please contact us). Other features is exactly the same with Alexa Toolbar.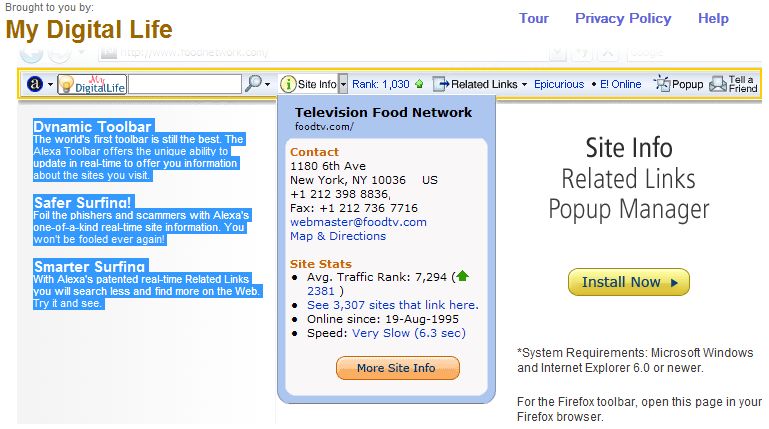 Among the features of My Digital Life custom toolbar are popup blocker and phishing detector for safer browsing. Search engine direct entry box, link to My Digital Life, link to Amazon.com, link to Alexa, and links relevant to the site the user is browsing are displayed as well so that you can surf smarter and easier. And most importanly, the toolbar also display information about the current real-time Alexa ranking of the website that the user is visiting, and plenty of site information such as traffic ranking, speed and contact information.
Download My Digital Life Alexa Associate Toolbar. The toolbar isnow available for both Internet Explorer (IE) and Firefox (Sparky).
Note that some anti-spyware and anti-virus software may labels Alexa Toolbar as spyware, as it transmits users' surfing behavior and activity information to Alexa server to calculate traffic rankings and other statistics.
Note also that when you're using My Digital Life Associate Toolbar to make purchases on Amazon.com, My Digital Life will get paid a commission from the Amazon associate program.