If you are using any of the WMD (Windows Mobile Device) and like to concurrently open few applications for normal use, you may experience system slow down due to task switching and CPU (Central Processing Unit) multiple workloads processing with limited available CPU cycles. There is a way to tab on the 'X' sign on the top right to close the applications, but sometimes you may not aware that those applications are still running in background. By not properly shutting them down may cause the severe processor slow down or even system hang up. The new release of TMAN version 0.9.7 for Windows Mobile Pocket PC could be a good choice to kill all the unused applications to free up CPU cycles available for other needed applications.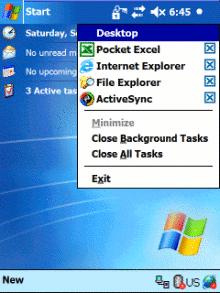 You can think of it as a tiny application as similar to Task Manager that normally runs in Windows-based PC. It is a simplified version that targets only on WMD and can perform the windows minimizing, end task, switch to new task, software reset, display off and etc by only few simple clicks. Some key features in this new release include the new styled buttons and improved program icons as well as better detection while switching of windows and other enhancements/bug fixes.
The application is free for download at PDA@jasnapaka.com and is compatible to any of the Windows Mobile 5.0 Pocket PC. With only 110kB, this is one of the good tools that can help to properly shut down unused application in your Pocket PC or Smart phone.