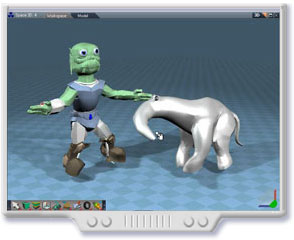 The highly famous and extremely useful 3D computer graphics and animation tool, Truespcae, is finally available free for downloading! Technically, Truespace is a modeling, animation and rendering package developed by Caligari Corporation. It features a plug-in architecture that allows users to create tools to enhance the core package. This advanced 3D toolset had never been free until Microsoft bought over Caligari a couple of months ago. Microsoft has since decided to release it for users to download and use for free.

The latest and newly released TrueSpace 7.6 can now be downloaded from the Caligari site. To get the free 3D tool, users need to register themselves to create their customer record with Caligari. Users will thence be allowed to access the downloaded site to get a copy of TrueSpace 7.6. The file size is substantially huge so it will take some time to download the 130 Megabyte software, 51 Megabyte PDF manual and 132 MB of videos. After downloading the 3D toolset, registered users can also join the forums and technical support corners to gain some knowledge and experience in using this application.
TrueSpace 7.6 has direct connection to Microsoft's Live Search Maps. Users can use TrueSpace to create some high resolution 3D models and upload them into Live Search Maps as a collection item. Users can thence import their collection into their Virtual Earth application.
Giving away TrueSpace 7.6 for free has aroused the suspicion of Net users on Microsoft's real motives. Is this a strategy to fight its arch-rival, Google?