Eltima SWF & FLV Toolbox is an video conversion program that includes Flash Video FLV converter and Adobe Shockwave Flash SWF converter. Eltima SWF & FLV Toolbox can convert individual file or batches of Flash SWF or FLV files into popular image and video formats, such as Projector EXE executable, AVI video, frame-by-frame JPG, GIF or BMP image series, screensave or single animated GIF.

SWF & FLV Toolbox features Advanced Projector specialty (Advanced Flash Player) that able to create EXE files out of any SWF or FLV, thus making it possible to watch SWF or FLV movies using handy controls and without installing Flash Player on a PC.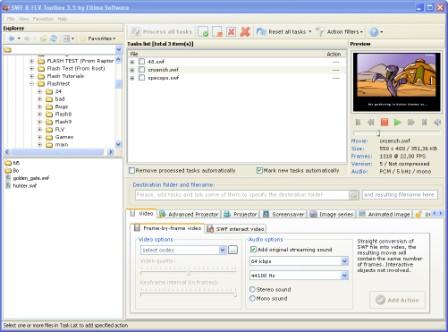 Features of Eltima SWF & FLV Toolbox:
Convert SWF/FLV movies into AVI, animated GIF, frame-by-frame JPEG/GIF/BMP, Projector EXE files
Convert SWF/FLV/Projector EXE files one-by-one or in a batch
Convert SWF into video (AVI). Note that MP3 is the only sound format supported for frame-by-frame video conversion
Create Advanced Flash Players with navigation controls and other cool features
Capture interactive as well as non-interactive Flash movies into Video files in a single-click of a button
Unlock protected SWF files
Add cool movie controls to FLV files converting them to handy SWF Player
Protect your SWF files from being opened and viewed in Flash Studio
FLV to Video conversion
Create exclusive screensavers from any SWF/FLV/Projector EXE file and add your homepage address, e-mail address, title, etc to its settings
Convert Projector EXE files back into SWF
Modify Advanced Flash Player caption, icon, cursor, version information, window size and location, expiration date etc.
Advanced Flash Player renders Flash movies without storing intermediate files on disk making it impossible to grab SWF file from the executable, which makes it a great solution to prevent decompiling your SWF movies
Add unique zooming control to Advanced Flash Player file
Advanced Player files cannot be decompiled
Adjust optimization settings for JPEG, apply different color schemes for GIF, select the desired frame rate for AVI files and lots more
Additional compression allows achieving lowest ever executable file sizes
Force Zlib compression and reduce your SWF/FLV files' size
Your users no longer need to have Adobe Flash player installed to view Flash animation
Onscreen preview of the selected files
User-friendly innovative user interface
Full Drag-and-Drop support
Eltima SWF & FLV Toolbox costs USD $39.95 for a single license. As part of joint promotion by Eltima and Brothersoft, the free license for SWF & FLV Toolbox is now been given away. To get personal own copy of full version Eltima SWF & FLV Toolbox program with genuine serial key number to register and activate, just download the free Eltima SWF & FLV Toolbox setup installer of the latest version 3.5 using the following direct download link:
Download Eltima SWF & FLV Toolbox with Free License: swf_toolbox_brothersoft.exe
Run the installer to install Eltima SWF & FLV Toolbox. During installation, the setup wizard will display following screen: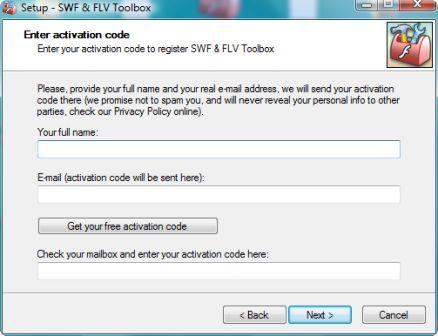 Enter user name and email address, and then click Get your free activation code button.

After the confirmation prompt, an email will be sent from "Eltima Software " with the subject of "SWF Toolbox – Free copy" with a free registration code for the commercial program. Enter the serial number into the activation code text box in the dialog box to complete the installation.
Eltima SWF & FLV Toolbox supports 32-bit (x86) Windows 2000, Windows Vista, Windows XP, Windows Server 2003 and Windows Server 2008 officially.