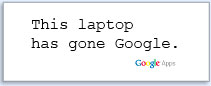 Google lovers or Google Apps users can now really show to the world that they have gone Google, by pasting the "I've gone Google", "This laptop has gone Google" or "whatever has gone Google" sticker. As a token of appreciation to Google Apps customers (who have gone Google), Google is giving away a limited number of free Gone Google stickers.

The free sticker giveaway is completely free, where printing, shipping and any other costs is paid by Google. In order to grab the free, personalized sticker, mostly mean for netbook, nettop, notebook or laptop to help Google Apps spread the word, just follow these steps:
Visit the following page:

http://gw.iprint.com/cgi-shl/partner_redirect.cgi?d=gah4b34nfg2k3sd

Click on one of the templates or styles to get started.
For customizable styles, add a name you'd like on the sticker.
Create or sign in to iPrint account.
Fill in the shipping address and email information. (iPrint will use this only for the purposes of confirming and sending you your sticker.)
Click on Place Order NOW button.
Wait for the free Gone Google sticker to arrive in 10-12 days. Shipping to outside of United States is also free, but additional time is required, where delivery timing is between 14-21 days.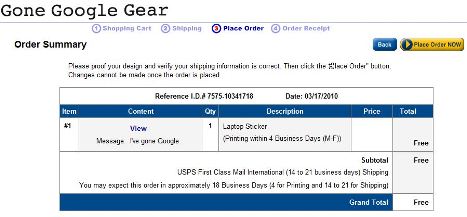 Offer available to all countries served by iPrint. Free shipping available only for the sticker promotion. Any additional items ordered will be subject to shipping and handling fees. Offer is void where prohibited and only while supplies last.