iCare Format Recovery is an advanced format recovery tool for recovering files after accidental format, quick format data recovery, file recovery on NTFS partition format and recovering data after disk format. The iCare Format Recovery has been designed for recovering Microsoft office files, photos, achieves, music files, video from any storage media like hard drive, removable hard drive, SD card, USB drives and etc.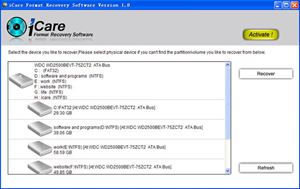 Features of the iCare Format Recovery includes:
Support Hardware RAID and Dynamic Disk Support.
Special developed search algorithm to perform format recovery.
Supported file systems such as FAT12, FAT16, FAT32, NTFS and NTFS5.
Supported hidden file systems such as Hidden FAT12, Hidden FAT16, Hidden FAT32 and Hidden NTFS.
Recovers compressed files.
Recovers encrypted files.
Recovers Files and Folders deleted from formatted partition such as D, H, E, C and etc.
Recovers Files from damaged disks (disks with bad sectors).
Supports  most of the Microsoft Operating Systems such as Windows 7, Windows Vista, Windows  XP, Windows 2000 Pro, Windows Server NT, Windows 2000, Windows 2003 Server and Windows 2008 Server.
iCare Format Recovery is now giving free license key code which normally cost $69.95 to purchase. This promotion offer will be ended on 22 April 2010. To grab the free iCare Format Recovery v1.0 just follow the below steps:
Download the setup installer of iCare Format Recovery: formatrecovery.rar
Once completed download, unzip the formatrecovery.rar to any folder in hard drive.
Double click on the setup.exe to execute the installation.
After that, activate the program by key in license key code: "2K1XB2X964MPHOCJ8M1RYIJF0OVHFOFH".
Even if you're not using iCare Format Recovery, it's recommended to download and save the setup installer, and the serial number will only work with the specific installer.