iolo Search and Recover 5 is comprehensive commercial used data recovery software for Windows operating system that provides recover, rescue, quickly locate, and save precious data such documents, photos, email messages, videos, and audio files. The software specifically designed for the recovery of accidentally deleted data. It is able to recover from all popular email programs and major drive types including malfunctioning, damaged, formatted and repartitioned drives and devices. The iolo Search and Recover 5 comes with easy-to-use interface that allows to quickly sorting through irrelevant files to rescue precious data. In addition, iolo Search and Recover has improved recovery algorithms, data imaging, data security function, and expanded file-type and media support for more efficient recovery of specific file types. Other prominent features include Outlook recovery, secure file deletion option, File Terminator, StrongScan technology, and SmartScan technology that can scan and allocate deleted files.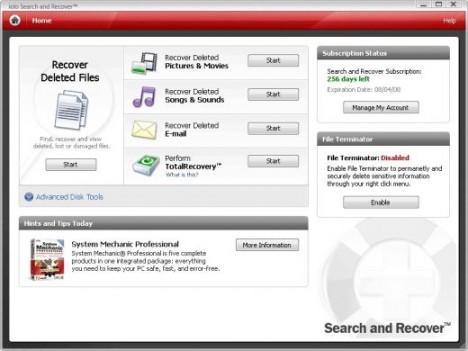 Features of iolo Search and Recover 5:
Finds and recovers deleted or damaged data from all drives and format types
Recovers from all popular e-mail programs including Outlook, Outlook Express, Thunderbird, Netscape Mail and Eudora
Even recovers data from malfunctioning, damaged, formatted, and repartitioned drives and devices
Enhanced preview technology allows to see, hear or read multimedia files before recovering them physically
Turn frustration to triumph in seconds
Convenient TotalRecovery
StrongScan technology finds more lost or deleted files than other recovery products
Upgraded interface enables intuitive operation and fast access to the data
Improved data security function that permanently delete any file or folder
Improved data imaging lets create virtual drives or backup copies from any hard drive, CD or DVD, as well as from damaged or inaccessible media
iolo Search and Recover 5 normally cost $39.95 for a 12-month subscription. As part of promotional offer, anybody now can grab the Search and Recover 5 with free 1-year genuine legitimate activation serial license key.
Go to the promotional page to grab the free 1 year Search and Recover 5 activation key:

Click "Continue" button to go to next page and click on "Secure Checkout" button as shown in below image.

Note: You will enter the iolo shopping cart as part of this process, but your credit card will NOT be charged.

Enter the name, email address, and other information, then click "Continue" button.

Now will be forwarded to email delivery method web page where need to click the "Continue" button.

Note: Select Email Delivery which is free as the shipping method receive the iolo Search and Recover 5 license key via email. Postal delivery is not free.

In review your order page, which will show the billing summary and shipping summary. Click on "Place Order" button.

Check the mailbox, the email from iolo technologies will receive with the subject "Thank you for ordering from iolo technologies, #2101XXXXXXX".

Download and install iolo Search and Recover 5: SearchAndRecover.exe
During Installation select "I own Search and Recover and can enter my serial number later" option, and click"Next" button.

Enter the activation key at the next window to enjoy the fully licensed iolo Search and Recover 5 for 12-month subscription.
iolo Search and Recover 5 supports Windows 2000, Windows XP, and Windows Vista.
Update: This offer has expired. New free iolo Search and Rescue 5 license offer available.