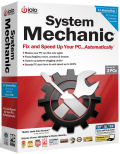 Iolo has released its new latest version of its PC maintenance and tune-up suite – System Mechanic 9, which offers smarter, faster and deeper tune-ups technologies. System Mechanic 9 is utility software for Windows operating system that able to clean up, organize, and speed up system to ensure maximum PC performance. Iolo System Mechanic 9 comes with registry repair tool, junk file remover, a suite of privacy tools, error repair tool and vulnerability scanner. In addition, the new System Mechanic 9 has added new features such as defense-grade file-shredding, EnergyBooster, Total Registry Revitalizer that integrated registry backup, repair, cleaning, compaction, and defragmentation. Furthermore, it also comes with PC Health Status Gadget technology that provides a quick overview of system overall health and security for Windows 7 and Vista operating system and ActiveCare module to run periodically in the background to monitor system status and optionally fix problems.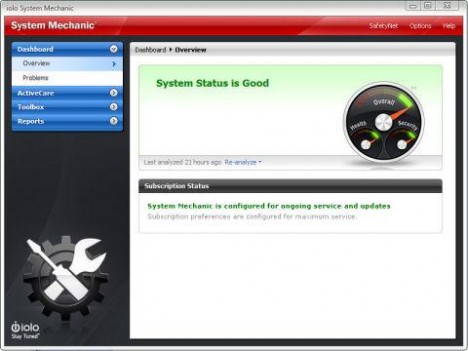 Features of System Mechanic
Registry Tuner
Startup Optimizer
Memory Mechanic
Privacy Cleaner
All-in-One PC Cleanup
Smarter Boot-Time Tune-ups
Tune-up Definitions
EnergyBooster – Temporarily shut down background processes to free up system memory and CPU for additional horsepower
Total Registry Revitalizer
Optimize PC for peak performance
Repair problems and errors, and prevent them from recurring
Clean up system clutter
Fix security vulnerabilities
Maintain reliability and speed
The new System Mechanic 9 will be available in two versions – Standard and Professional. System Mechanic 9 Standard normally cost $39.95 for purchase. Iolo is now having a promotion to giveaway free 6 months of System Mechanic 9 with genuine legitimate activation serial license key.
To get the free 6 months license key code, go to the following promotion page to register:
Click "Continue" button to go to next page, which will show the shopping cart is pre-filled with Six month subscription of System Mechanic 9. Click on "Secure Checkout" button.

NOTE: You will enter the iolo shopping cart as part of this process, but your credit card will NOT be charged.

Enter the full name and other information, and click on "Review Order" button.
In Review Order Page containing the billing and shipping (e-mail) summary. Click on "Submit Order" button.
A verification email will be sent to use's mailbox with the system mechanic license key.
Download and Install System Mechanic 9: SystemMechanic.exe
During Installation select "I have license code & activate it later" option, enter the license key and get 6 months System Mechanic 9 subscription.
System Mechanic 9 supports 32-bit and 64-bit Win 2000, Windows XP, Windows Vista and Windows 7.